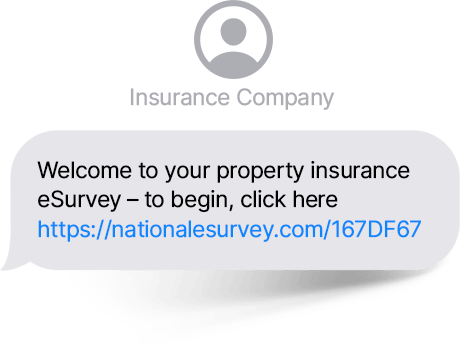 What is the Self-Inspection App?
National's eSurvey Mobile Web Application is a cutting-edge, self-service inspection technology, that allows a policyholder to complete their own inspection on their home. This dramatically reduces inspection cost and delivers unprecedented speed to your underwriting workflow.
eSurvey is a mobile web application – there's no app to download or install. It runs smoothly on any smartphone, tablet or mobile device with a cellular data or WiFi internet connection. When you order an eSurvey, your policyholder will instantly receive an email and text message invitation.
A link in the invitation will take them directly to the mobile application where they'll follow a simple, step-by-step process to enter pertinent underwriting information, answer underwriting questions and take photos of their property – all from their smartphone or mobile device.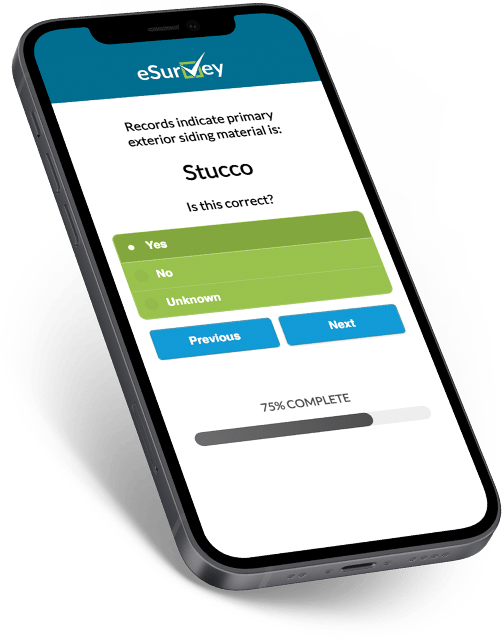 Current clients are seeing our eSurvey reduce their loss control inspection costs by 50% or more on completed surveys.

Policyholder property intrusion and related complaints are eliminated.

Information is provided first-hand, directly by the policyholder, rather than second-hand through an agent or inspector, reducing the opportunity for errors.

Average turnaround times are reduced from 10-15 days, to 3-5 days and often even faster.

Clients experience seamless integration with existing order protocols and inspection processes. If a policyholder opts out of the eSurvey, or ignores the invitation, it can automatically convert to a traditional field inspection and still deliver inspection results to underwriting within typical traditional inspection timeframes.
How would you rate your eSurvey experience?
4.6 out of 5
(10,000 user responses)
"Great tool. Easy to use and great pictures to explain the terminology for wiring, roofing, plumbing, etc. Did it at my leisure when it was best for me."
"Pretty simple process and easy to follow instructions. Great user interface."
"Effortless. Given the pandemic, it was reassuring to not have a person come into my house. We continue to social distance with our family members. Thank you."
"This is very helpful as it's a vacation home and we won't always be there for an inspection."
"Very effective process for completing this portion of the insurance approval."
"Thanks so much. Easier and more convenient than having to schedule and wait for an inspector."
Top 5 Reasons to use eSurvey
Absolutely! We'd be happy to send you an information packet and demo video, or schedule a live demo online.